Basic – Style Alcantara black

Diamond – Vintage oscuro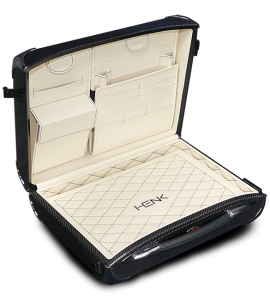 Diamond – California crema

Diamond – Classic nero
Interior
Alcantara® Black with stiching in black.
1 removable Passport/ticket inlay
1 removable Accessories inlay
The entire interior is also available in three other leathers (see Options) and on request in customised colors or other types of leather. It would be our pleasure to provide you with a proposal upon request and dispatch an offer to you.
Colors
Standard colors, exterior: carbon glossy.
Corner joints: black (standard). Optional in yellow, orange, green, red, black, white, chromed silver, chromed gold, 24 ct. gold plated
Prices

HENK Carbon Attaché
14,190.00 €

Options

Removable carbon humidor
+ 4,900 €
Bullet proof armouring
+ 2,250 €
Interior design "Diamond"
+ 680 €
Vintage Nubuck leather
+ 880 €
California cowhide leather
+ 1,120 €
Classic calfskin leather
+ 1,620 €
Corner joints color
+ 280 €
Corner joints chromed
+ 380 €
All metal parts in 24ct. gold plated
upon request
Personal logo or Monogram (interior/exterior)
upon request
BOVEDA® 10 pack humidity pads
+ 25 €
* all prices ex. VAT
Want to know more?
Get all the details here!
Want to own one?
Send your wishes to Henk!